Important Books
The most important book in the world?
"Providing a detailed historical analysis of the evolution of the Eurozone and its failings from the 1940s to the present day, the book argues that the Eurozone lacks the necessary monetary architecture, particularly the existence of a federal fiscal function which could have resolved the economic crisis quickly. The author examines the options available to Europe and concludes that an orderly abandonment of the euro and a return to national currencies is the superior option available."
Eurozone Dystopia - Groupthink and Denial on a Grand Scale, 2015, William Mitchell
| | |
| --- | --- |
| | Neoliberal Politicians/Corporate Finance Run & Destroy EU - Greece, Italy for now... |
"
Europe does not say what it does; it does not do what it says. It says what it does not do; it does what it doesn't say. Europe is an optical illusion.
Pierre Bourdieu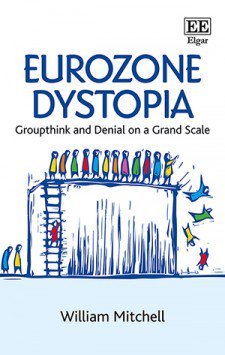 Relat. HS Resource Pages
"Doesn't it strike you as odd that, for more than five decades now, the U.S. government has been issuing and spending trillions of dollars of U.S. FIAT currency, and not once has a mainstream economist, journalist, or political leader found it worthy of consideration to even try to explain—from the perspective of what economic policy is all about—what a sovereign fiat currency actually is, and how it functions?"
Money: The High Cost of Betrayal, 2018 by JD Alt
"So ask yourself this question: If the Federal Reserve can create trillions of dollars with a single keystroke, and the Fed is the government's bank, then why does President Obama claim we've "run out" of money?" Where Did the Federal Reserve Get All that Money?, 2012, Stephanie Kelton - from
HS: Modern Monetary Theory (MMT)
"The Nobel Factor
tells how the prize, created by the Swedish central bank, emerged from a conflict between central bank orthodoxy and social democracy. The aim was to use the halo of the Nobel brand to enhance central bank authority and the prestige of market-friendly economics, in order to influence the future of Sweden and the rest of the developed world. And this strategy has worked, with sometimes disastrous results for societies striving to cope with the requirements of economic theory and deregulated markets."
Bill Mitchell on some of the Nobel Prize recipients: "I rank their work among the most distressing and obscene of all the disgraceful con jobs that the mainstream of my profession has deliberately foisted on the public policy process."
Nobel prize – hardly noble, 2010

from
HS: The Nobel Prize Hoax
Germany now controls the EU, while the media say: Germany pays to Greece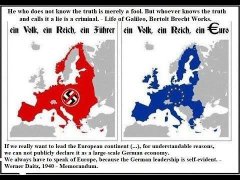 "
Germany took over Europe with its Deutschmarks more easily than with its Panzer divisions.
Sean Gervasi, former JFK advisor,
Brexit is a good idea
Plan A and B with MMT