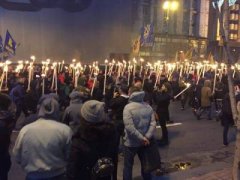 "The interviews with three snipers of Georgian nationality, conducted by the Italian journalist Gian Micalessin and aired last week as a breathtaking documentary on Milan-based Canale 5 (Matrix program), still have not paved its way to the international mainstream media."
Cheap dignity of the Ukrainian revolution, Nov. 2017
"The only hope the Kiev Junta, with its Neo-Nazi thug militias, its banning of the Russian language, its destruction of WWII memorials, and vicious austerity measures has, is further US intervention. It cannot win a war against its own population."
Phantom-tanks-and-the-desperation-of-kiev, 2014, Caleb Maupin
"Even more disconcerting has been the emergence of phone intercepts between high-ranking U.S. and Ukrainian officials which make it look as if the U.S. was basically, in the words of Princeton's Stephen Cohen, "plotting a coup d'état against the elected president of Ukraine." In other words, the U.S., in addition to providing moral support, may have paved the way for extremists to seize power in Kiev. "
The Neo-Nazi Question in Ukraine, 2014, Huff Post
Secrets of the 'Dead Souls' of Ukraine, 2017:
"Ukraine held its last census in 2001. At that time its population accounted 48,457,000 people. The official figures as on Jun 1, 2017 show a demographic disaster: 42,482,000, 6 million or 13% down in 16 years."